Flower braided hairstyles are some of the most striking and beautiful styles that you can wear. They add a touch of elegance and femininity to any look, and they're perfect for special occasions like weddings or formal events. However, there are many different ways to style your hair with flowers, so choosing one can be a bit daunting. That's why we've put together this collection of gorgeous flower braided hairstyles ideas to inspire you! So, grab a few flowers, some bobby pins, and get started on creating your masterpiece.
There is nothing like a fresh new hairstyle to make you feel good about yourself. Whether you are going out on a date or want to feel pretty, these flower braided hairstyles are sure to please. There is something for everyone, so get your hair done up in style today!
How to: flower braid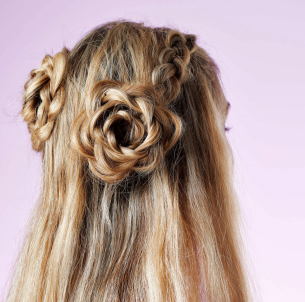 Flower braids are a stylish way to keep your hair out of your face while looking elegant and put together. They can be worn with any outfit, from dresses to jeans, perfect for special occasions or everyday wear. Follow these simple steps to create a beautiful flower braid in your hair.
There are endless possibilities when it comes to styling when it comes to hair. You can experiment with different colors, layers, and textures. However, sometimes you want a simple style that is easy to manage and looks polished. If this sounds like you, then try the flower braid. This style is popular among women of all ages and can be worn for any occasion. Here are three steps on how to create this look:
Begin by parting your hair in the middle and dividing it into two even sections.
Take the section on the right side and divide it into three parts.
 The first part should be at the front of your hair, and the other two should be in the back.

DIY flower braid hairstyle
Flowers are one of the most beautiful things in nature. Their delicate petals and bright colors make them perfect for adding a touch of beauty to any hairstyle. In this tutorial, you'll learn how to create a flower braid hairstyle that is sure to turn heads. With just a few simple steps, you can have a lovely new look that will last all day long. So, get ready to celebrate spring with a gorgeous new hairstyle!
Start by doing a high ponytail and put your hair in a little bun at the back of your head so you have enough space for braiding.
If you have thinner hair, you can do two braids. However, you should do three if you have thick hair like me.
Do your regular braid and when you're finished, twist the same three strands of hair together with one strand of another side (pick up some extra hair while doing it) until the end of the braid. Make sure that the second braid is higher than the first one.